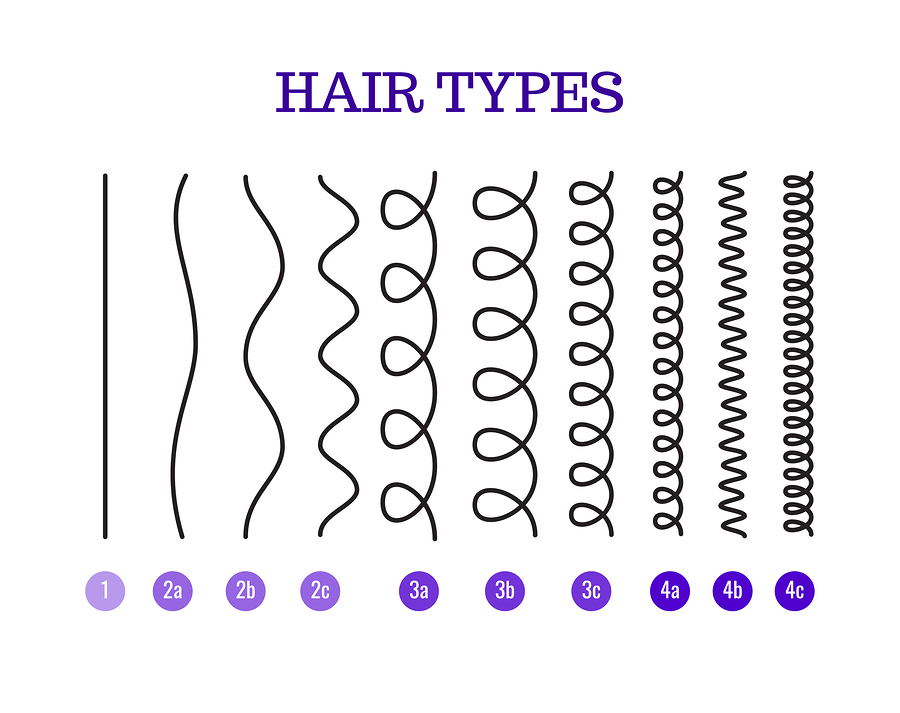 Image Source: Bigstock Photo/cuppuccino
Which Products are Best for Your Curl Type?
What is the best hairstyle for your hair type? What are the best products for curls? Choosing the best products and hairstyles for any hair type can be daunting for even the most experienced curly girls. Over time, most of us have figured out that our curls can only be as good as our options and experience. Sure, we do turn to other experts from time to time, but the foundation of what is necessary for gorgeous hair remains the same. We all crave hair that is moisture-rich, ripe with curl definition, vibrant and healthy.
So, how do you know which products are best for your curl type?
Type 2 – Wavy Hair
Curly naturalistas who have type 2 hair have a challenging time with volume. The hair tends to lie close to the scalp, which can make it challenging to give this hair a boost sometimes. These characteristics mean that you may have to create dimension using a variety of tricks of the trade.
The best hairstyles for wavy or type 2 hair include:
Long hair
Layered styles
Deep parts
Ombre, balayage, and highlights
Because wavy hair does not have the volume that kinkier hair has and it is easily weighed down by certain products, it is advised to use a mousse, combined with My Curly Way Super Gel.
If you presently reside in a warm or humid climate environment, the My Curly Way Super Gel is perfect for the season. Spring and summer months can make sustaining curls with definition very difficult. Our hair often swells as a result of the surrounding hair. This side effect triggers poof and frizz, which can be challenging to manage. The My Curly Way Super Gel will leave your hair defined and soft, while keeping the frizz away.
Type 3 – Curly Hair
Type 3 hair is highly susceptible to weather changes and temperature swings. Curly hair strands are most likely to endure shrinkage of the hair types.
So what are the best hairstyling options for type 3 curls? Naturalistas agree that the following options work well for this hair type:
Wash and go
Updos
Layered styles
The My Curly Way Curl On leave in conditioner is fantastic for type 3 hair as it can give your hair body, soften its texture and bestow much-needed moisture. Also, it can help to combat frizz while sustaining your hair well hydrated.
Leave in conditioner is essential for winter months due to the dry air that commonly accompanies these months.
For more definition, apply the My Curly Way Super Gel right after applying the Curl On. The Super Gel will protect your hairstyle during all year long, but especially for the spring and summer months when the humid weather arrives. Don't be afraid from to much stiffness or crunch. The Super Gel was designed to keep your curls defined while having them soft to touch.
Type 4 – Kinky Hair
Type 4 hair is also susceptible to weather and temperature changes. Coily hair strands are prone to shrinkage, especially in humid weather.
The best hairstyles for kinky hair are:
Wash and go
Protective styling
Twist outs and braid outs
When you have type 4 hair, hair masks can prove to be especially helpful in conditioning your hair.
If you are using the LOC method or the LCO method, use the My Curly Way Curl On as a leave in conditioner and add a natural essential oil of your choice. The Curl On will keep your hair well hydrated, while the oil will coat it with another layer of moisture.
To keep those curls rocking for days, use the My Curly Way Super Gel. It will allow you to free yourself from daily rinsings, while having soft and well defined curls.
Products for Low and High Porosity Hair
My Curly Way features products that are not only designed to cater to your hair type but hair porosity as well. Hair porosity is how well your hair retains water. Knowing if you have
low, medium, or high hair porosity
can help you to make better decisions about the best product from the My Curly Way product line for your hair type.
My Curly Way features the My Curly Way Curl On leave in conditioner, which although designed for curlies with low porosity, it has received so many excellent feedbacks from high porosity curlies as well. It is based on natural ingredients and flower extracts, contains no sulfates, no silicones, and no parabens and no mineral oil, making it a perfect match for curly girls who wants to keep their hair healthy and vibrant.
If you have high porosity and your hair is damaged, you can mix the My Curly Way Curl On with a natural essential oil, to gain even more softness.
Both low and high porosity hair can benefit from the My Curly Way Super Gel. The Super Gel gives strong hold which allows your hair to be curly and defined in the summer months and generally humid weather. Don't be afraid from too much crunch or stiffness, the My Curly Way Super Gel allows your hair to be both defined and soft My Curly Way Gel and My Curly Way Cream can assist you with achieving your hair care goals. Add them to your hair care regimen and share your outcomes with us. Tell us about your experience.