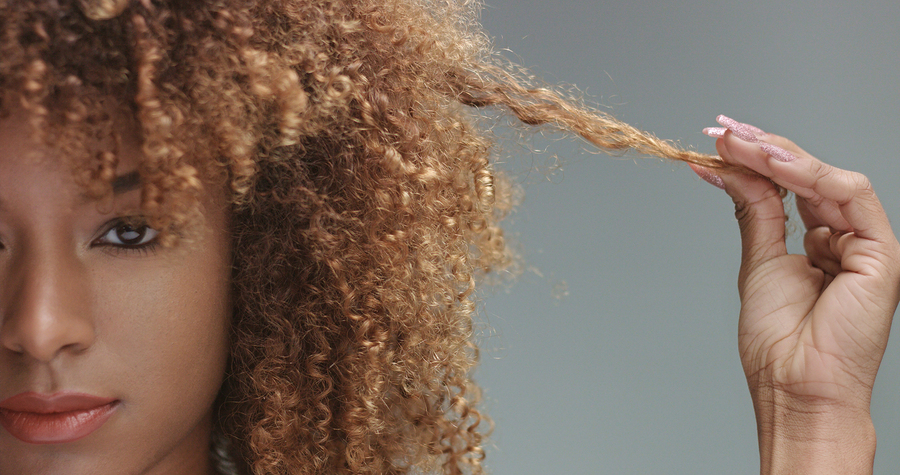 Image Source: Bigstock Photo/Anastasiia Kazakova
Six Ways to Control Big Natural Hair
Curly, kinky, coily natural hair is notorious for giving new meaning to the word 'Big.' After all, curly hair is prone to becoming frizzy and riddled with an extra poof. This unique quality has everything to do with the fact that our curly hair has a penchant for being thirsty. That's right; curly hair is naturally drier than straight hair and requires us to work a little bit harder than the rest of the hair world if we are to gain any semblance of control over our tresses.
Don't worry. There is good news. You can take control of your big, natural hair and take steps that enable you to keep frizz at bay. Are you ready to get started?Here are six ways to control big, natural hair.
Sulfate and Paraben Free Products Only
Choose shampoos and conditioners that are paraben and sulfate free. Rationale? Sulfates have a nasty reputation for stripping your hair and robbing them of their natural oils, leaving your hair prone to becoming dry, brittle and full of frizz. It's the perfect recipe for big hair.
Don't Wash Your Hair Too Much
Yes, a clean scalp and hair are essential for healthy hair growth, but as a girl with curly locks, you have to avoid washing your hair too much, or you may inadvertently strip your hair of its natural oils and yet again, generate unwanted frizz.
Use a Microfiber Towel to Dry Your Hair
This next tip is all about yo towel-drying practices as it pertains to your hair. Be careful that when drying your hair with a towel that you choose microfiber towels or materials that won't snag your hair or generate frizz.
You never want to rub your hair during the towel drying process. Always squeeze the excess water from your hair or consider allowing it to air dry.
Update Your Hair Care Product Application Ritual
Take charge of your hair by modifying your hair product application techniques.
NaturallyCurly
suggests practicing the following methods for applying hair products to minimize your poof factor: the shingling method and the LCO method.
What is the Shingling Method?
The shingling method of applying your hair products requires you to smooth the solution over your hair from root to tip after parting it into four distinct sections. This approach is especially useful when using hair butter, creams, custards, and puddings.
What is the LCO Method
The LCO Method or liquid, cream, and oil technique are the practice of applying your hair products in the order indicated by the acronym. This approach works well when using essential oils, leave-in conditioners or smoothie/cream-based products.
Deep Condition Your Hair
Deep conditioning your hair every other week can go a long way to hydrate your hair and aid you in navigating hot and humid climates that can trigger frizz. Hair masks are another fabulous option.
Use a Leave-In Conditioner
Yes, the final step of the hair cleansing process a.k. A Leave-In Conditioner may seem a bit excessive, but it's a vital asset in the battle of controlling naturally curly hair. Leave-in conditioners infuse moisture, detangle your hair and can help to shield it from damage that can sometimes contribute to gnarly, big hair events.
These are just six ways to take control of your big, natural hair.